The 2020 Jeep Gladiator has arrived, and it's about time. Jeep enthusiasts have been begging for a Jeep option with a bed for decades, and Jeep has finally delivered. Now, it seems the Go Anywhere, Do Anything spirit is truly undeniable.
A Truck 26 Years in the Making
With legendary Jeep 4×4 capability to take you off the beaten path and the strength to tow or haul your toys wherever you need them. The All-New Jeep Gladiator won't just carry you to the adventure, it will be part of it. The Jeep Gladiator is the only open-air pickup truck in the industry and has been engineered from the ground up. The Jeep Gladiator is unmistakable and will set new standards, wherever it goes.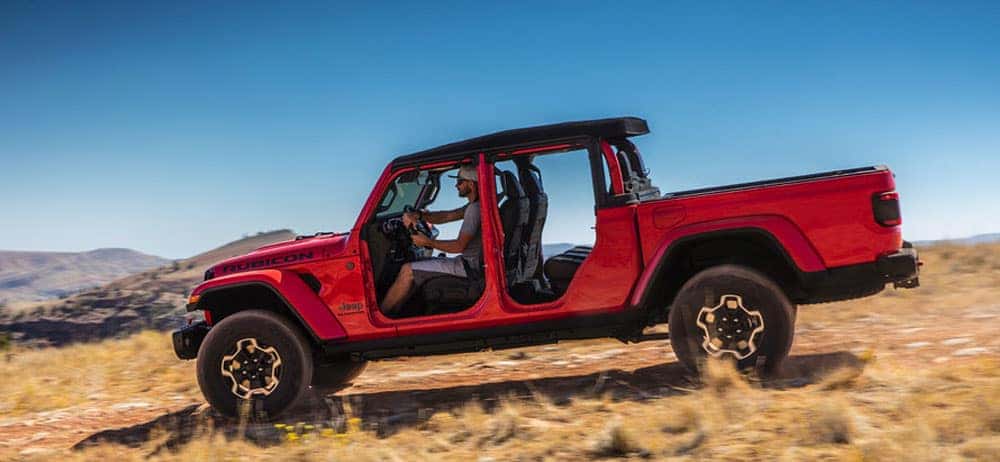 Nothing Like it on Earth
The all-new 2020 Jeep Gladiator is one of a kind. It's the only open-air pickup in the world. Just as you can with a Wrangler, you can remove the doors, fold down the windshield, and take off the top. All the while, you still get the functionality of an SUV, but load space of a pickup truck.  Try doing that with any other pickup on the market.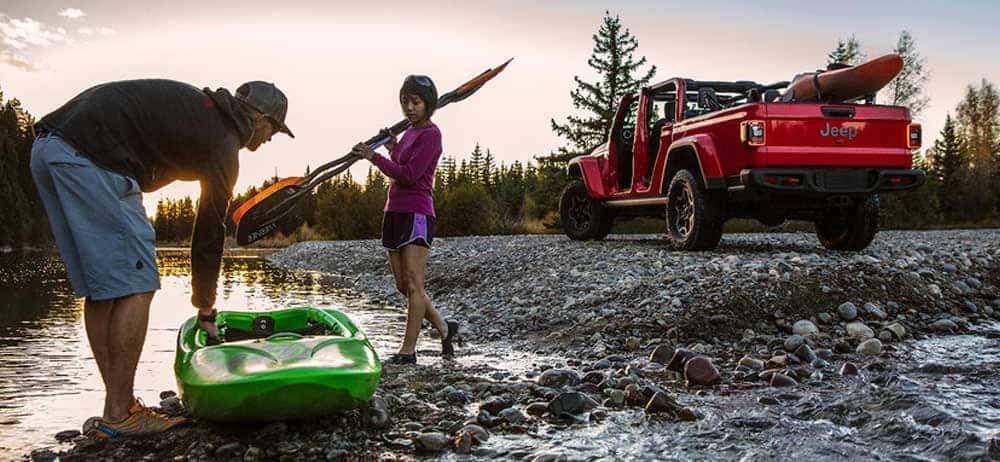 Gladiator is not Equal to Wrangler
The 2020 Gladiator, at first glance, looks like a modified Wrangler, but that could not be further from the truth. Despite the similar looks at first glance, you quickly will realize there are a lot of differences other than the truck bed. The 2020 Gladiator has larger axles, larger brakes, and the suspension is unique to the truck as well. The 2020 Gladiator will be able to carry 750 kgs of payload and have a towing capacity of nearly 3500 kgs.
A Jeep With a Bed
You will not be sleeping in this bed, but you'll have lots of room to move one with this 5 ft truck bed, and a 3-position tailgate. The bed also boasts integrated tie-down loops, LED bed lights, and a 115V electrical outlet. Perfect for hauling your camping gear to the Manitou Regional Park Campground.
Fun and Adventure – Straight Ahead
The 2020 Jeep Gladiator will offer the flexibility of being able to go further off-road with the functionality of a pickup truck is a dream come true. There is truly nothing else to compare this truck to on the market.
The team at Manitou Mainline Chrysler believes in the importance of creating and maintaining a great rapport with our customers and our community. This commitment has helped us to become Saskatchewan's Favorite Jeep Dealer!
Want to learn more or book a test-drive? It's easy to speak with a Jeep Product Expert about Jeep Gladiator prices and more! Call our easy to remember phone number 306-WATROUS. Or visit our new modern dealership, located at 9 Campbell Road in Watrous, near Regina, Moose Jaw and Saskatoon, SK.