How Many km Do Tires Last?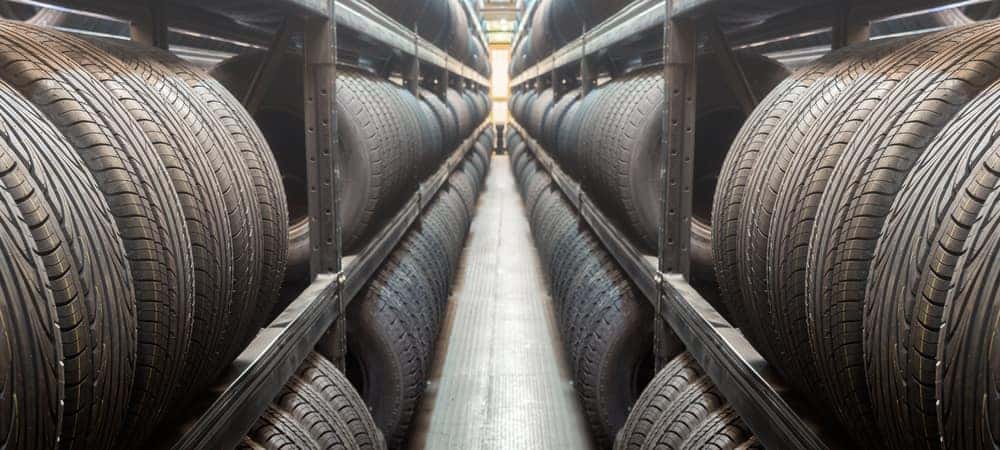 When car tires are bought from the OEM (Original Equipment Manufacturer) or you purchase high-quality replacement tires, you should expect them to last around 80,500 km on Regina roads. Learn more about how many km do tires last and what can affect tires' life expectancy with the friendly auto service professionals at Manitou Mainline Chrysler!
How Long Do Tires Last: Key Factors
The answer to the question "how long do tires last?" may vary, depending on a number of different factors:
Tire type: While high-performance tires offer extra grip, they're subject to wear out faster than all-season tires because they typically experience greater rolling resistance.
Treadwear rating: Tires come with a treadwear rating that rates the life expectancy of the tire treads.
Drivetrain: Whether you have FWD, RWD, AWD, or 4WD can also affect how quickly your tires wear, depending on where the vehicle sources power for forward motion from.
Road conditions: The snow, salt, and ice that hit Watrous in the winter can certainly do a number on our tires. Additionally, if you frequently go off-roading or drive on construction sites on a daily basis, both can make a big impact on the answer to "how many km do tires last?"
Terrain: If you live in a particularly hilly area, your tires can experience more friction than they would if you were starting and stopping on flat surfaces.
Driving habits: If anyone has ever accused you of having a lead foot, you may want to change up your habits. Accelerating gradually and coasting to stop will help your tires last longer.
Tips For Long-Lasting Tires
In addition to driving more cautiously, there are additional things Moose Jaw drivers can do to help their tires last longer:
Rotate your tires on a regular basis to ensure even distribution of wear.
Inspect tire tread depth regularly to check your tire tread wear.
Be diligent about regularly scheduled maintenance.
When you're fueling up at Saskatoon gas stations, take advantage of the tire inflation station to inspect your tire air pressure.
Get Reliable Tire Service at Manitou Mainline Chrysler
After learning more about how many km do tires last and exploring some tire care tips, we hope you're feeling better prepared to care for your vehicle's tires. Have lingering questions? The service department at Manitou Mainline Chrysler can help. Whether you need to schedule tire service or you're searching for a new set, our experienced technicians are here to assist. Contact us for additional help, and be sure to take a look at our service specials designed to help you save!
More from Manitou Mainline Chrysler
New RAM 2500 InventoryContact Us How much can a RAM 2500 tow? The latest edition of the powerful RAM 2500 is well-equipped to take on tough tasks on the job site and off the beaten path. Regina drivers can use the impressive RAM 2500 towing capacity to haul heavy-duty equipment across town or recreational equipment…

Jeep Compass for SaleContact Us  Looking for an SUV that is as versatile as you are? If you are ready to take on your workweek commute in Regina and weekend adventures in Moose Jaw in stunningly rugged style, the 2020 Jeep Compass was built for you. Whether you prefer a budget-friendly Jeep Compass Sport or prefer…

New Renegade for SaleContact Us The Jeep Renegade is well-known for its impressive off-road performance around Watrous, but the high-tech cabin makes even the most rugged trips feel like luxurious rides. The 2020 Jeep Renegade interior was designed with a spacious layout, upscale materials, and tons of smart features to enhance your daily drives through…